Calls for Rohingya justice
Allison Hore
UTS student completing a Masters in Advanced Journalism. Areas of interest include style, subculture, education and community action.
There are renewed calls for justice in the growing human rights crisis in Myanmar in the wake of the ASEAN summit in Sydney this month.
Myanmar's State Counsellor Aung San Suu Kyi faced pressure to address ongoing human rights issues during her appearance at the summit, from both the public and other leaders from the group of 10 countries from around South East Asia.
In response, Ms. Suu Kyi called on Australia and members of ASEAN to offer humanitarian support to Myanmar to help deal with the crisis, which a top UN human rights official calls "textbook ethnic cleansing".
Security forces have driven out almost one million Rohingya Muslims from the Rakhine state in northern Myanmar, according to United Nations human rights officials.
The United Nations Office for the Coordination of Human Affairs (UNOCHA) say they have registered 688,000 new arrivals in neighbouring Bangladesh since last August. A further 200,000 Rohingya Muslims had already fled to Bangladesh.
Prime Minister Malcolm Turnbull met with Ms. Suu Kyi in Canberra on Monday to discuss the role Australia can play in helping to reach a resolution.
But for Burmese human rights activists, the talk of action is not enough, they believe that the time for discussion has long past.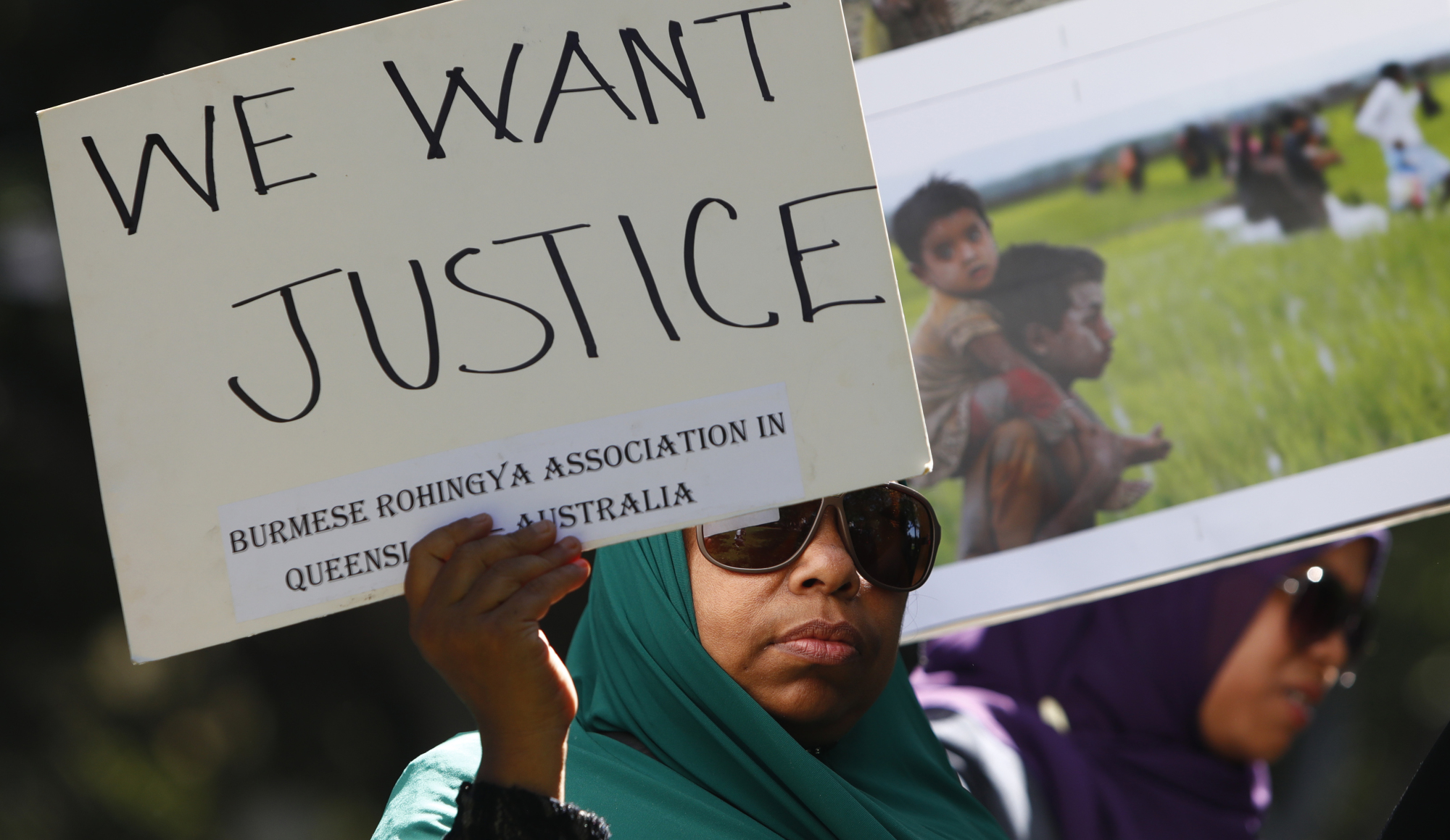 "Time is over to talk about political solutions or identity politics. It's time to save the people." said Burmese activist Wei Wei Nu in a public meeting late last year.
Ms. Nu is a democracy, human rights, and a women's rights advocate from Myanmar. She set up the Women Peace Network in 2012 to build understanding between different ethnic groups in Myanmar. Having spent time as a political prisoner due to her father's career as an elected member of the parliamentary opposition, Ms. Nu has first-hand experience of the human rights issues in her country.
"The issue has been there, the awareness has been there, but where is the action? It's time to stop talking about these issues and hold everyone accountable," she says.
Last year, she met with politicians from multiple parties in Canberra to advocate for change in foreign policy. She called for not just diplomatic pressures on Myanmar, or humanitarian assistance, but also changes in military and business policy.
The Australian Government's Trade and Investment Commission recognises investment opportunities for Australian companies to export cosmetics, food and beverage, healthcare, and infrastructure to Myanmar, among other products.
Debbie Stothard, co-ordinator at ALTSEAN-Burma and secretary general of the International Federation for Human Rights, also recognises the power that Australian investors have in Myanmar.
She says that investors often make excuses that their investments are offshore, but they still need onshore infrastructure that may be set up in the Rakhine region to manage these investments.
"Do they swim in from? Or do they fly in using planes from the airfield? Where will they stay when they will come to visit? Maybe luxury hotels built in the recently cleared land," she said, addressing the meeting.
Ms. Stothard has been campaigning for human rights in Myanmar for over 20 years. She says that the current situation is a throwback to when she first became an activist.
"All the issues that we have fought for back then are coming back, we have gone back in time."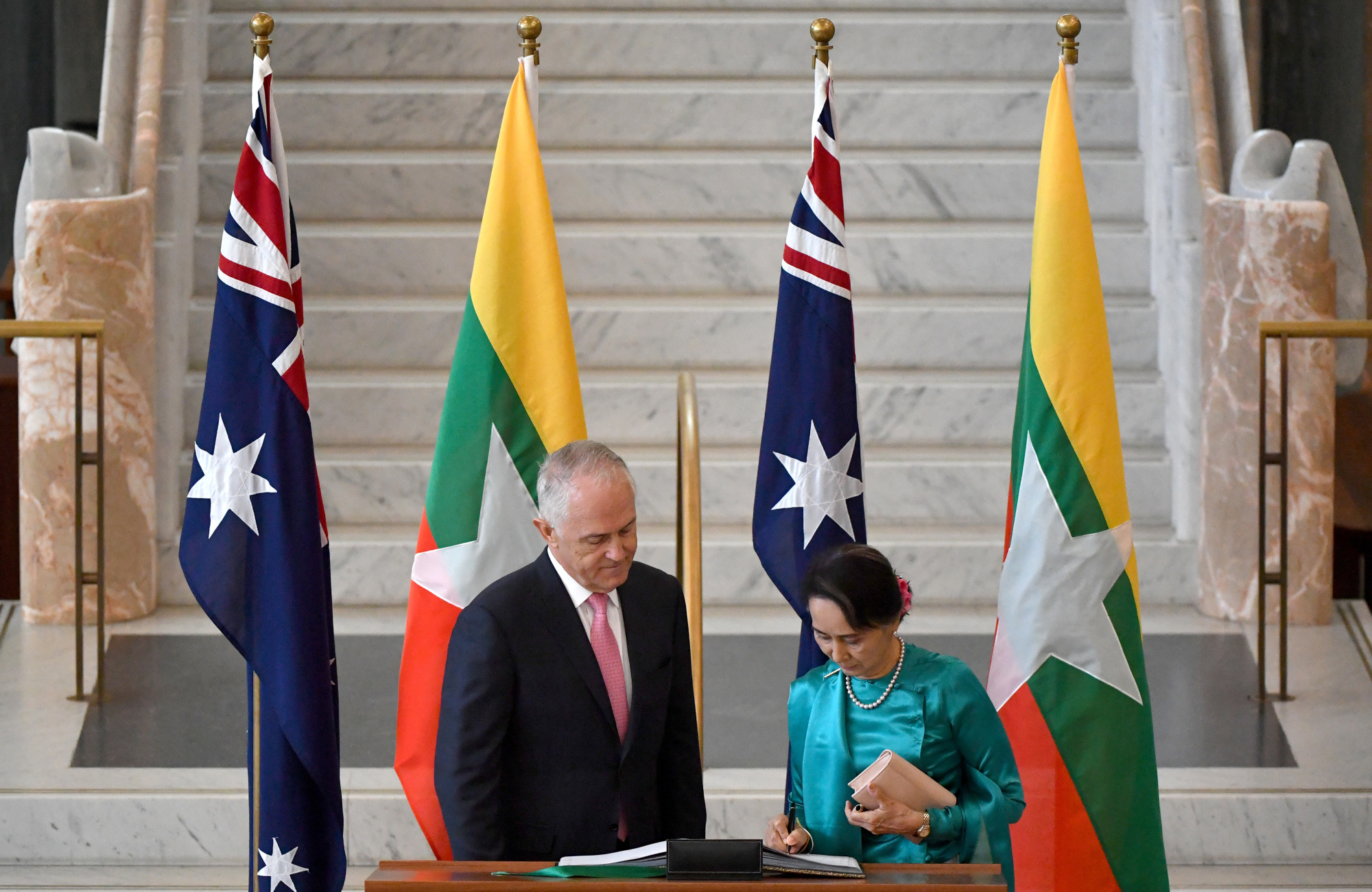 In a press conference on Monday, Mr. Turnbull said Australia would continue to give economic aid to Myanmar and Bangladesh to help them resolve the problem.

"Our goal is to support a peaceful and speedy resolution of the humanitarian problems, the humanitarian disaster truthfully that has resulted from the conflict," Mr Turnbull said.